With over 30 years' experience in the Côte d'Azur seasonal letting market, Riviera Holiday Homes has just one objective:making your stay on the Côte d'Azur an unforgettable time combining comfort and pleasure.
With this in mind, the agency seeks out exceptional rental properties in order to offer you a wide choice of holiday villas and apartments.
This article contains a selection of the properties with the best views! All rentals are just 2 clicks away on our site!
1/ L'Agrianthe Figuier
It's always summertime in this apartment! Are you looking for peace, relaxation and to enjoy beautiful strolls without needing to get in the car?  Here is a rental with a panoramic view of the bay of Villefranche sur Mer....Look no further: we found it for you! This property's geographical location makes it a rare rental opportunity!
2/ Villa chèvre d'or :
It is one of our finest rental properties.  Discover the Chèvre d'or! A magnificent view of the Mediterranean Sea and exceptional comfort combine to give you an unforgettable holiday.
The facilities in this rental property include: a heated 24-metre pool with jacuzzi, a pool room, a home gym and cinema! What more could you ask for?
3/ L'orangeraie :
The Cannes hinterland is a real gem of the South of France. It's time to reconnect with nature. This Provençal country house is perfect for relaxing holidays in peace and quiet.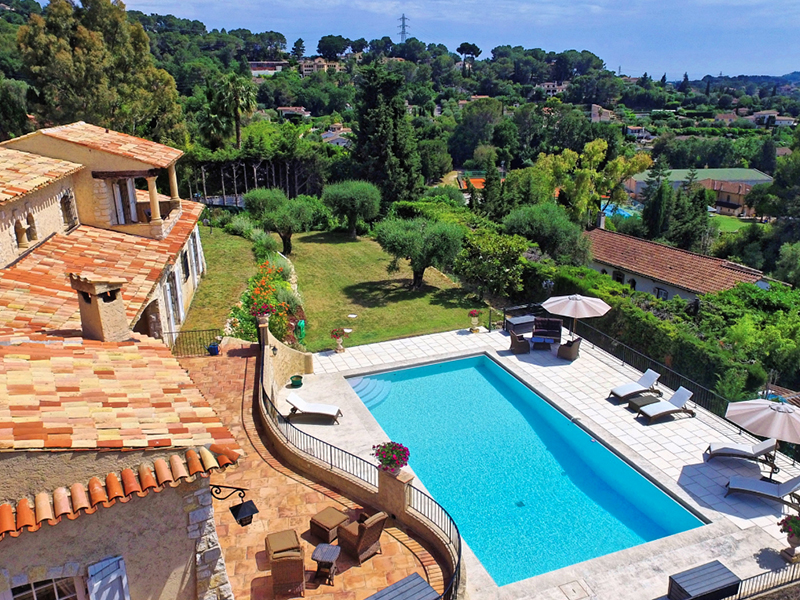 4/ Neptune plage :
Breakfast with fresh fruit, a sun-soaked patio, sea views...this is the perfect spot for a holiday on the Côte d'Azur!
5/ Roc Fleuri
An Italian-style villa typical of the 1900s, "le Roc Fleuri" was originally a hotel-restaurant specialising in fish and seafood trading as the "Hôtel Réserve du Cap-Fleuri" in the 1910s. This country house is one of the Côte d'Azur's listed monuments and offers a unique panoramic view of the sea!
6/ Villa Théoule :
A panoramic view of the Mediterranean all day long!  Share this magnificent villa with the whole family! Today it is one of Riviera Holiday Homes' unmissable rental properties. An affordable price and excellent quality!
7/ Cap des Anges
It is indeed Nice and not Greece! Start the day with the best sea view in the Côte d'Azur! On one side over the Baie des Anges with Nice and on the other le Cap Ferrat and the Baie de Villefranche-sur-mer.
8/ La Villa Enchantée
This magnificent villa literally overlooks the Côte d'Azur! Is visiting the region on your to do list for 2019-2020? Here is a taster of what's in store for you!