---
"This summer we're booking a holiday villa on the Côte d'Azur!". It's really quite simple to make this dream come true with the help of top holiday rental specialists, like Riviera Holiday Homes.
But to make it happen it's important to pick a holiday villa that is the "right fit" for you. Obviously if you want to have options, it's best to start thinking about it as early as possible. Beyond that, here are some other recommendations to bear in mind.
We give you 6 tips for a successful holiday!
1 – As a couple? As a family? With friends? Make sure you have enough space!
How many people are in your group? Use this as the starting point for your search. The number of bedrooms (and bathrooms) is the most important consideration.
If you are bringing the kids, make sure they have their own room and that a cot or highchair is provided if needed so you're not caught short when you get there!
Then, if you're coming with a big group, the kitchen will need to be spacious and you'll need a lot of seating space for dining and drinks. A large patio in the shade (canopy or trees) is essential for making happy memories together.
---
---
2 – In the city? In the hills? In the hinterland? A key consideration!
Officially, the Côte d'Azur covers the Mediterranean coastal strip from Menton to Théoule. However, the term "Côte d'Azur" means different things to different people. What are you looking to get out of your next holiday?
---
---
3 – With or without a pool? It's a more important than you might think!
In la Côte d'Azur, you're guaranteed wall-to-wall sunshine and clear blue skies most days. But remember, daily temperatures can hit or exceed 30 degrees Celsius, despite the cooling effect of the sea and the Alps nearby. So if you're in or around Nice between June and September, it's practically essential to be close to water so you can take a dip at a moment's notice.
Similarly, having a poolside patio with parasols will turn your holiday into a delightful oasis of calm.
---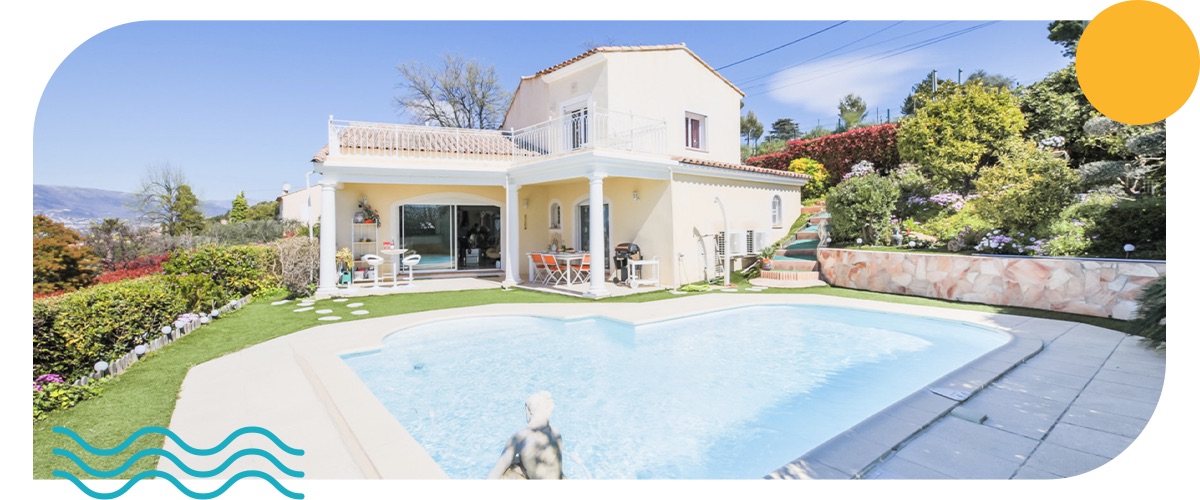 ---
4 – Do you enjoy going out when you're on holiday? There are some great nightspots
It's clichéd, but true: Juan-les-Pins, a district of Antibes is the place to be for clubbers and fans of nightlife. Have a wander, have a drink, go dancing…at night the place comes alive and it's always warm!
5 – The little things that will make (or break) your holiday…
Do any of your family have reduced mobility? Do you want to bring a pet? Is air-conditioning non-negotiable? Do you want all the mod cons provided?
These are the things that will make or break your holiday. It's up to you to make sure the villa you choose has all the fixtures and fittings you want but also that it suits your lifestyle. On the website, RivieraHolidayHomes click on the filters in the top right hand corner of the screen to narrow down your search and be sure to select the perfect property for your family this summer. Enjoy!
---
---
6 – Your holiday home should reflect your personality
Do you only like minimalist, trendy design? Or, on the contrary, perhaps you feel more at home somewhere with character? Can you only get that holiday feel if you have a sea view or a Mediterranean garden?
You're right to keep your standards high: spending time there with your loved ones should be the highpoint of your year. So, take your time when checking out the photos of each villa to make sure you're blown away when you arrive.
---
---
When planning your next holiday on the Côte d'Azur, don't just book the first property you see.
Our website rivieraholidayhomes.com has been designed to help every holidaymaker choose the perfect place for THEIR holiday. If you're not sure and need some advice, our team of locals are happy to help. Just give us a call on 00 33 4 93 16 03 44.
See you soon on Riviera Holidays Homes!
You can also find 7 wonderful things to do in Cannes in our previous blog post.