Dying for a holiday in the Côte d'Azur? Believe me, I get it. What with the good weather almost guaranteed, the charm of the towns of the South of France and the beauty of the Mediterranean, it is still the dream destination: both affordable and stunning. However, to get the most out of your holiday in Nice or the surrounding area it's essential you pick the right apartment!
In this article the team at Riviera Holiday Homes, the seasonal holiday rental specialist, will share their 5 top tips.
1- Which holiday destination: Nice, Villefranche, Antibes, Cannes?
The Côte d'Azur has many faces, since each seaside resort has its unique personality. So, first up you need to consider the kind of setting you want for your holiday:
Nice, a major city with a distinct Italian flavour, boasts an expansive beach topped with pretty white pebbles, the magnificent Baie des Anges, the promenade des Anglais, a 20 km walkway famous the world over and all the amenities (culture, shopping, entertainment, festivals) of a "seaside metropolis" Nice also boasts beautiful hills. In its hinterland the landscapes offer a combination of dizzying heights and natural beauty.
Villefranche sur Mer: the ideal spot for lovers of Mediterranean beauty. A small Medieval village overlooking an exclusive bay that sparkles in the sunshine, a delightful marina in hues of pink and orange, beaches that offer natural "swimming pools" where you can bathe in peace in the crystal clear waters.
Le Cap Ferrat is a treasure of sapphire blue and lush vegetation within a stone's throw of Villefranche and its delightful coastal path.
Antibes and Juan les Pins: night-life, sunbathing and culture: you'll be spoilt for choice in this popular and picturesque little Provençal market town. A favourite hang-out of billionaires, this fortified town in Cap d'Antibes is a hotspot for parties, clubs and dance floors, where the night gives way to dawn in the blink of an eye. The combination of little ancient streets, artisanal shops, the Picasso Museum and the huge Port Vauban offer a picturesque living heritage.
Cannes and surrounding area: a "city of cinema" typified by the elegant Croisette and with outstanding views over l'Estérel and les Iles de Lérins. A city synonymous with glamour, luxury and the latest trends, Cannes is also a paradise for lovers of urban and watersports. Delightful towns like Mandelieu, Mougins and Théoule pepper the surrounding landscape. Although they're less well known, they're just as captivating.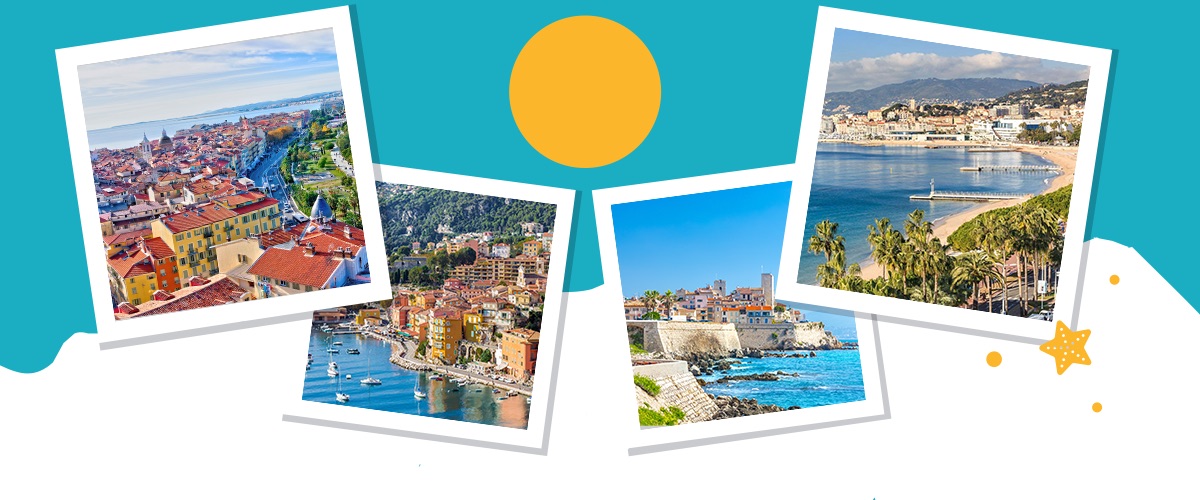 2 – What do you want from a holiday apartment and how big do you need it to be?
Once you've made the most crucial decision, your destination, the next thing to consider is the apartment itself. Of course, it will depend on the kind of holiday you are planning: a lovers' retreat, a family holiday or getting away with friends. Two people or a group of ten? With www.rivieraholidayhomes.com you have the choice: from a studio to a 3-bedroom apartment, often with a sofa-bed to maximise space, choose the right apartment for your circumstances. (If there are more than 8 of you, it's worth opting for a villa though.)
The second key factor to bear in mind is whether it has a balcony or patio, or even a communal garden. In the south this is almost essential so you can get some air after breakfast, take a siesta in the afternoon or enjoy pre-dinner drinks at sunset.
Last but not least, if you can, opt for an apartment near the sea or with a pool on-site. In the Côte d'Azur the summers are hot and being within easy reach of water or a bathing spot is essential.
3- Whether in the town centre, the old town, a quiet neighbourhood or on the seafront,
in Nice, you will find www.rivieraholidayhomes.com a wide range of apartments with sea views overlooking the Baie des Anges. If you can, we recommend choosing the latter as it will be a source of joy throughout your holiday, a clear added bonus.
But there are other types of property with irresistible charm, like the "old towns" which offer authenticity, ancestral beauty, quaint local restaurants and a complete change of scenery…in short, lots of benefits!!
For those who like to keep things simple, the town centres offer a choice of grocery stores, cinemas and shops with easy access to the beach. Plus, having everything within walking distance isn't to be sniffed at!
Finally, heading for the hills or surrounding areas is often a good idea: with unforgettable views and stunning landscapes, these quieter spots often offer an unforgettable escape when you want to get away from it all.
4- Consider what you want to get up to on holiday: walks, watersports, taking things slow?
Choose an apartment that is best suited to your dream holiday: start by imagining how you like to spend a typical day on holiday.
For example: If you want to do nothing, opt for a large patio near the sea. Use the filters on the left-hand side of each page of our site https://www.rivieraholidayhomes.com to put together the best plan and choose an apartment to match!
Or, if you want to tour the whole of the Côte d'Azur, from Menton to Théoule sur Mer, during the holiday, look for an apartment near la Corniche (the coastal road) or the motorway link roads at the other end.
If watersports like sailing, paddleboats, jetskis and swimming are your thing, rent an apartment near the beach and one of the many watersports clubs the Côte d'Azur has to offer. These activities abound in the region.
5- Rent an apartment where you feel comfortable: minimalist design or with period features.
The objective is to enjoy your holiday so you may as well choose somewhere you feel at home. Some people want nothing more than white Scandinavian-style furnishings, whilst others prefer a traditional Provençal style where wooden furniture and colours give character, others still have their own personal tastes in decor…
Don't hesitate to take your time browsing the many photos depicting the interiors of the apartments on our books until you are sure that you have found the right holiday property for you. One thing is guaranteed: every https://www.rivieraholidayhomes.com/fr/ apartment comes with top-of-the range fixtures and fittings. You will find all the mod-cons you need and all the appliances are fully operational. The Riviera Holiday Homes team is close at hand if you have any problems or need anything fixing.
If you've read this far you'll have understood that when choosing a holiday apartment in the Côte d'Azur, you need to consider your budget first and foremost, but also your preferences and the kind of holiday you want.
Simply browsing our site https://www.rivieraholidayhomes.com/fr/ will give you a delicious taster of your amazing holiday that awaits in the Côte d'Azur. Our team is on-hand ready to take your call – take full advantage!
Call us on 33 (0)4 93 19 03 44