Calèna (which means Christmas in the Nice dialect) symbolises a stage in the cycle of the sun that corresponds to the winter solstice.
Christmas begins on 4 December, the feast of Saint Barbara. It is an important date for inhabitants as it on this date that wheat and lentils are sown. A symbol of prosperity and fertility for the coming year, these germinated seeds are placed on the table on Christmas Eve.
The Nice Nativity (Presèpi)
The Presèpi is a simple nativity scene. Only baby Jesus, Joseph, Marie, the ox and the donkey are included.
-> If you like, you can check out the living nativity in Nice's old town and experience these traditions for yourself.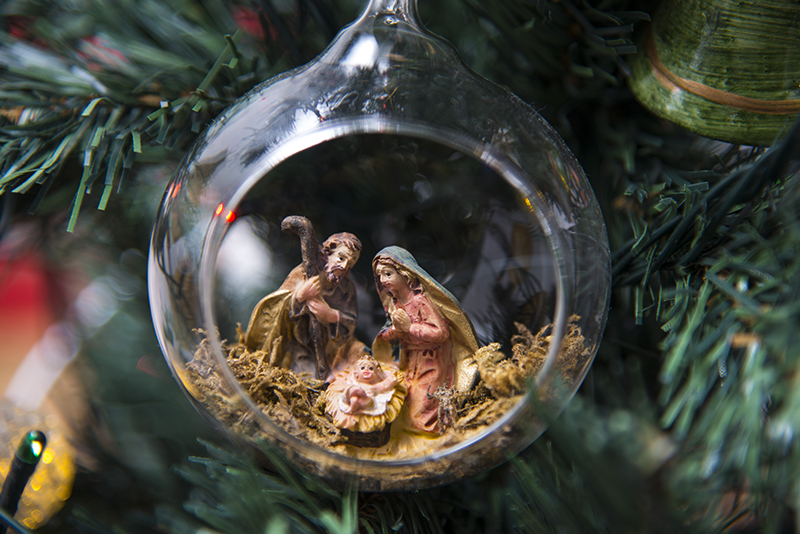 Celebrating Christmas Eve in Nice!
In days gone by, the "tree of life" (Christmas tree) was decorated on Christmas Eve. This brought the family together for a moment of joy and memories.
According to local tradition, in Nice on the evening of 24 December, the hearth fire is extinguished and relit with an olive branch by the youngest member of the family. The flames are then sprayed with drops of wine and this wish is made: "a l'an que ven, se sian pas mai que siguen pas mens" (if there are not more of us, let there not be less), a wish that those present will gather once again the following year.
According to custom, the table is set with 3 tablecloths placed on top of each other (1 for each meal) as well as the wheat and lentils sown on Saint Barbara's feast day and, finally, a branch of holly. On Christmas Eve there is a light evening meal of vegetables and fish, perfect for then heading off to Midnight Mass.
According to tradition, a plate is left out for the poor or the dearly departed.
In days gone by, it was customary to offer a welcome gift, in the form of a small object, which was placed under guests' napkins.
After returning from mass, it is time to eat the 13 desserts including sweet chard pie (for more information -> link old article).
Lunch on 25 December is made up of different cuts of meat. Leftovers are finished off for the evening meal.
Read Also > Nice Pastries