It's easy to know what clothes and accessories to pack when you are visiting Nice or the surrounding area in the height of summer. Think swimming costumes, shorts, little summer dresses, beach towels, high SPF suncream and a sunhat.
But it's an entirely different matter if you are coming to discover the French Riviera in October, November or December! We've put together a summary of the must haves for autumn on the Côte d'Azur.
What temperatures should you expect in Nice in autumn?
In general the weather is mild, with temperatures between 13° and 20° in October, dropping to an average of 15° in November and 10° to 12° in December. There is less rainfall than in the other regions of France, but any rain that does fall is often concentrated into two or three (sometimes torrential) days. Apart from that it's very sunny, and al fresco lunches aren't uncommon even in the middle of December!
What to pack: It's all about layers. Make sure to bring clothes that can be easily layered on top of one another so you can adapt your outfit easily throughout the day. This could include:
– T-shirts or polo shirts
– Light trousers or transitional dresses
– Tights (or socks) from mid-October
– Gilets or jumpers to go on top
Include wool or fleece jumpers you can put on easily when the temperature drops, but remember that a shirt is normally enough on your top half during the day, particularly if you are going out at lunchtime, the warmest part of the day.
Above all, don't forget a good waterproof jacket with a hood for the rainy squalls that can set in without warning when you are halfway through your walk. It's best to bring one that fits inside a light backpack you can take everywhere with you.
What shoes should you bring? Although sandals aren't the best choice at this time of year, trainers or walking shoes are however great for wandering around the towns and villages or exploring inland. Add a smarter pair of shoes for going out in the evening for a touch of elegance on the Promenade des Anglais or la Croisette.
If you are visiting in October, slip a swimming costume into your bag as the sea and swimming pools are still warm. You'll see swimmers taking a constitutional daily dip in Nice, Villefranche sur Mer, Antibes and Cannes!
What are the must-have accessories for the season?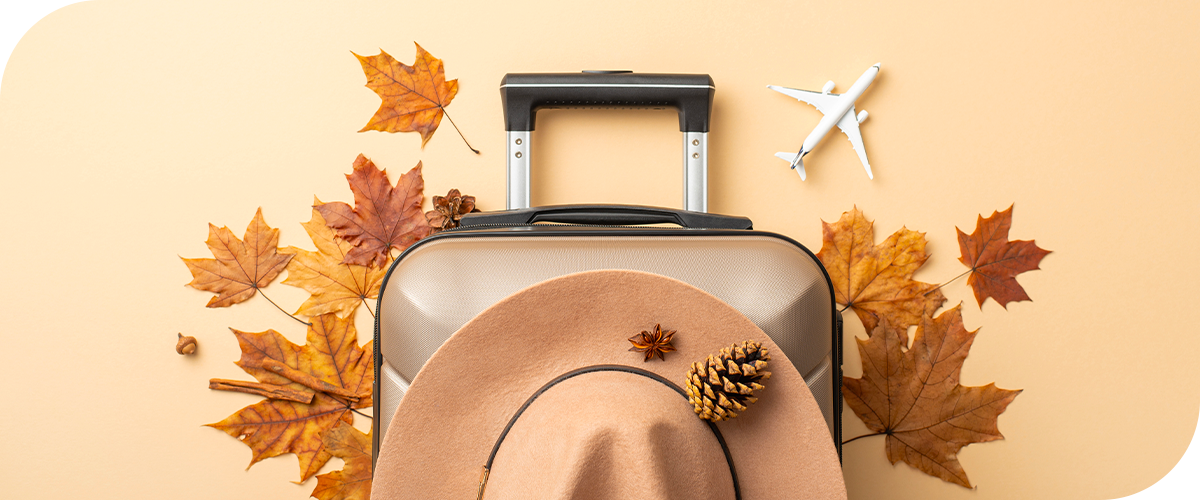 * Don't forget your sunglasses! Not only will they guarantee you an elegant Côte d'Azur style, they will also (and most importantly) protect your eyes from the sun's rays, which are still strong at this time of year. This is particularly important if you take a trip to the mountains behind Nice, where the first snows will dazzle you in every sense of the word.
* Also crucial is a high SPF suncream (SPF 30 at least, and SPF 50 if you have pale or sensitive skin). There are lots of day creams available that contain an SPF, which will ensure you can set out for the day with skin protection without having to worry. Séphora sells a day cream that contains an SPF, as do Avène and La Roche Posay. Clarins, Clinique and Kiel's all offer one too and there's something for every budget.
* A light, durable backpack will be super useful. When you are out in the city you can use it to carry your essentials (wallet, phone, keys, tissues, etc.), as well as a water bottle or flask. For a walk or hike inland, you can use it to carry your food, route guide or maps, if necessary. Choose one you can slip inside your luggage; it will be your best friend on holiday!
Every moment feels like a blessing when you visit the Côte d'Azur in autumn. There are restaurants with welcoming outside seating areas without queues, off-season prices, and mild weather that is perfect for exploring and sunbathing on beaches with all the room you could need. That's what happiness is made of – as long as you have everything you need to take advantage of every second of your trip!
To make the most of your trip to the Côte d'Azur in autumn, make things easy by renting the apartment or villa of your choice on the Riviera Holiday Homes website (https://www.rivieraholidayhomes.com/en/), the uncontested expert in holiday lets!