When we think of the Côte d'Azur, we often think of clear blue sky and… summer. In fact, the beautiful weather around Nice is at its most precious out of season. When it's cold and grey everywhere else, it's mostly sunny and warm here by the Mediterranean.
Let's take the example of November …what could be worse! Actually it's the best time to choose such a sun-kissed destination to get your mojo back during that pre-Christmas slump. Come and experience unforgettable and precious moments on the Riviera. Here are a few ideas.
Lunch on a sunny terrace on the Cours Saleya in Nice
This pedestrian area of Nice devoted to the local market (every morning) is an iconic and radiant place. It's a hub for local gastronomy with its many restaurants (Le Safari, La Voglia…) and market produce. At the same time, the sumptuous examples of architecture here are a sort of condensed version of Nice's beauty. After a lazy lunch, go under the arches of "Les Ponchettes" leading to the sea and take a walk along the spectacular Promenade des Anglais lined with its famous palm trees, and breathe in the Mediterranean air.
Cours Saleya isn't the only place you can enjoy the autumn warmth: there are restaurants on the beach, like Le Galet or La Vela, to welcome you. Savour a real Salade Niçoise, some freshly grilled sea bass, or pasta with clams.
Discover the treasures of Nice's architecture
Nice only became part of France in 1860. This historical fact is why a whole section of the town is proud to have an Italian past and Ligurian architecture. You can see the Italianate influence in the colours of the streets too, which range from ochre yellow to cherry red, through tones of honey and pink.
The influence of Nice's neighbour is particularly strong in the old quarter, Vieux Nice, with its magnificent religious buildings (Sainte Reparate Cathedral, Sainte Rita Church…) that are perfect examples of the Baroque.
But that's not all! Nice also has an extraordinary Belle Epoque architectural heritage (the Negresco hotel, the Cimiez quarter, and Boulevard Victor Hugo) as well as Art Deco (the Musicians' quarter, right in the town centre). Look skyward as you walk and you'll be able admire ornate façades, finely wrought balconies, and murals on the walls. Nice was home to architectural geniuses, but also talented stonemasons and metalworkers. Thanks to them Nice is now one of the most beautiful towns in France.
Enjoy the beaches with the special Côte d'Azur train
To unwind, take the eco-friendly little Côte d'Azur train which calls all along the coast. Even out of season you can take a return trip for just a few euros, and it runs every day. Théoule, Villefranche-sur-Mer, Beaulieu, Eze, Cap d'Ail – quieter beaches that are just a short walk from the station. Enjoy the charms of these spots as you walk under the palm trees between bougainvillea and oleanders.
From Beaulieu station, you can have a picnic on the beach (it's so sheltered that you can swim there in November!), and also walk to the Saint-Jean-Cap-Ferrat peninsula. The beach footpaths are waiting for you – just as delightful as in summer but even more peaceful.
Get cultural
Nice, Antibes and Cannes each offer a rich and diverse cultural calendar. Take advantage of your stay to go to the Nice Opera (Bellini's work La Sonnambula is on in November 2022), or a concert (the famous French singer Jacques Dutronc and his son will be playing together this year in early November, for example).
The Côte d'Azur also has the largest number of museums in France after Paris: Renoir, Matisse, Chagall, Léger, Bonnard, Picasso… Many great artists are celebrated in museums in Nice or Cannes, and Biot. You can go from one exhibition to another in our great art galleries: from the Museum of Modern and Contemporary Art in Nice to the artists' residence in Le Suquet, Cannes, not forgetting of course the marvellous Maeght Foundation in Saint-Paul de Vence.
Last but not least, our neighbour Monaco, easy to get to by train from Nice, also offers wonderful shows and exhibitions (The Damnation of Faust by Berlioz is at the Monte Carlo Opera in November).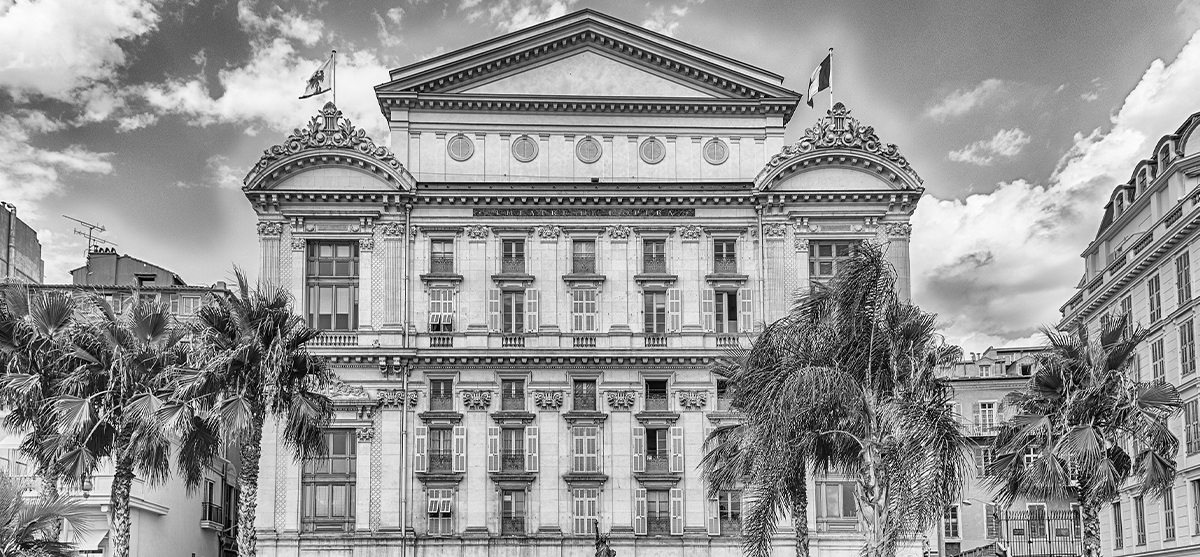 Go inland and be wide-eyed in wonder at the autumn colours
The Côte d'Azur is green and leafy all year round thanks to its Mediterranean vegetation. And as soon as you go inland into the hills and forests, nature becomes spectacular.
Go to the Vésubie Valley, or the Gordolasque Valley (a little further but highly protected and full of remarkable flowers, mushrooms and birds). Cycling fans absolutely must go on an excursion to the Esterel mountains to combine sport, scenery (the sea can be seen sparkling in the distance in all directions), and taste – when you come back from your ride you can refuel with delicious grilled fish at one of the little seafront eateries on Théoule-sur-Mer beach.
Set back from Nice, you can climb Mount Boron, Mont Chauve, or the summits of Mont Macaron. They're very close to the town, and every climb is worth it for the splendid 360° panorama, with unmatched views of the Alps on one side and the Mediterranean Sea on the other.
So, plenty to do and come home with your physical and mental wellbeing restored, as well as beautiful memories of the dolce vita and all the things you've seen. November on the Côte d'Azur? It's reserved for people who really know how to enjoy the best in life … at off-season prices!
If you'd like to stay in Nice or nearby this autumn, don't think twice, visit the Riviera Holiday Homes website and choose your villa or flat now!
Read also > 5 local recipes to enjoy while on holiday in Nice (or the surrounding area)